WE ARE HERE TO HELP. The main reason FlyItAgain was founded was to make kiteboarding more accessable. We have the knowledge to hook you up with the exact equipment you need at the best prices you will find. We also can help you find some of the top instructors in the area.

The website is Under Construction... Full website will be up by April 6, 2009

For inventory or any information please contact us at (813) 598-8702 or by email at John@flyitagainkites.com.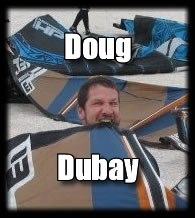 Years Kiteboarding: 2 Years
Quiver: 16 Switchblade III, 15 Slingshot Fuel, 14 Liquid Force Havoc, 13 Slingshot Fuel, 12 Switchblade II, 9 Switchblade I
Boards: Jimmy Lewis Flight Deck, Jimmy Lewis Model 3 131, Cabrinha Caliber 136, DD Custom 132 x 43
Favorite Kite: Slingshot Fuel 15
Favorite spots: Sunset Beach FL, Cabarete DR, Los Terrenas DR
Best Session Ever: Downwinder from Cabarete to Encuantro Dominican Republic
Worst Kitemare: 1st attempt kiteloop backroll, ended up above the kite, fully powered, slingshot back into the water at mach speed feet first. Upon impact one foot yanked out of the stap resulting in a simultaneous full split as the board smashed my crotch. Had trouble walking for a month.
How Often Do You Ride: 12 knots or better, I'm there
Favorite Quote: "Hey, watch this"
Besides Kiteboarding: Snowboarding, making custom kiteboards.